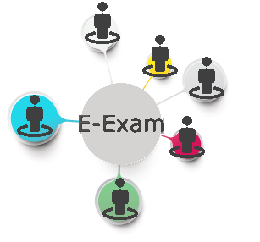 Online e-scholar Online Mock Entrance Exams Software

is a best class Online Education Suite which covers all requirements for an Online competitive examination. This can also be used as Examination Training suite with Multiple choice questions (MCQs) for competitive exams like Medical entrance, NEET, J2EE, GATE, PSC, CAT, MAT & Banking etc in India. This suit feature effective MCQ Mock Entrance examination, which helps students to shape up their competency for Entrance Examinations. One to One educational training session is another awesome feature of this product. Digital whiteboard experience provide the simulated real life Education environment. The online system is developed using PHP Codeigniter framework.
Online Examination System is the most growing examination method because of its speed and accuracy. It requires less manpower to execute the examination. Almost all organizations are moving their objective exams into online examination system. Organisations can also easily check the performance of the student that they give in an examination. As a result of this, organizations are releasing results in less time. It also helps the environment by saving paper.
To win Competing Examinations, extensive simulated training in same environment is an inevitable milestone. Online e-scholar fulfills all of those requirements with glaring colors. Online e-scholar has following Features and can be extended extensively as per the client requirement.
Login system
Ability to save the answer
Answer checking system
Update Profile
One to One Session - White Board Facility
MCQ - Mock Entrance Examination
Administration Panel
Contact us if you are interested to know more about this product.